Posts Tagged 'Twilight'
Monday, November 30th, 2009
I found this yesterday and it reminded me of the summer of ONTD for me, which was when I was on ONTD EVERY FUCKING DAY right before The Dark Knight came out and they would make awesome marcos similar to the one above, but fucking awesome.
And it made me sad because my computer crashed last year which I had TONS of those awesome TDK marcos saved on, so now I dont have any
Shit now I wanna see some, hold on let me see if i can find a good one……..
…….OMG I FOUND MY FAVORITE ONE!! ROTFLMFAO!!!
OMG I remembered I almost peed myself when I sawe this picture for the first time, haha. Anyways there's really no point to this post, just wanted to share with you guys something I found yesterday that reminded me of 2 summers ago and how I miss it.
Do anyone know if there's other New Moon/Twilight marcos like this? Cuz I know there's some Twilight ones, but are their other New Moon ones?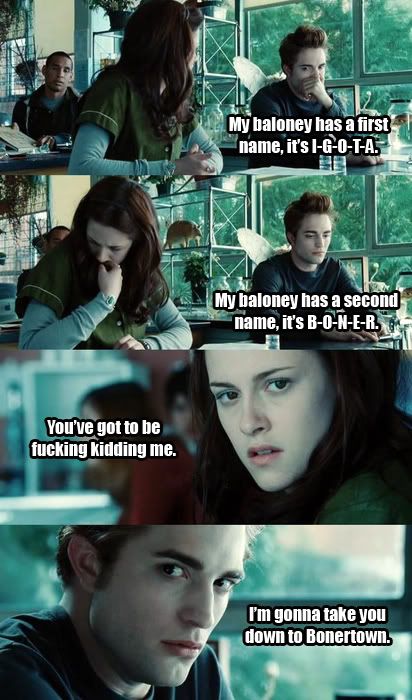 Please let me know!
<3